Price and quality
We deliver high quality. How do we realize that?
We  do this by controlling the entire production process.
We buy a high-quality combed cotton with a certified quality mark. This is the basis of our beautiful Breton end product.
We process the cotton thread in our factory on the knitting machines. Over the years we have purchased and refined circular knitting machines. With this extensive knitting production we can keep the quality of our fabrics constantly stable.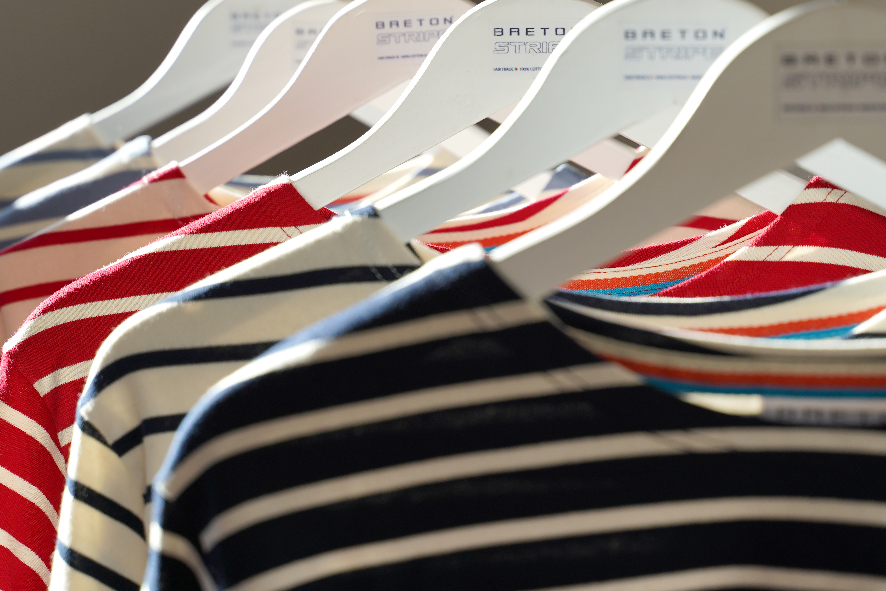 At the cutting table, the next step in the process, we perform the second check. Because our articles are all processed stripe by stripe, we manually place the rolls of striped fabric. After this, the semi-finished products go to the workshop, which is located in the same building.
We train the people who work in the studio ourselves. This way they can deliver the standard high quality that we hold in high regard. We are proud to employ a loyal team with expert knowledge that knows exactly what needs to be done.
The last step in the production line is pressing and ironing the final product. Again, this is done manually. This is the final check on the final product. After this, the item is packed and sent to our warehouse.
Due to our high quality control, we have virtually no returns. We are quite proud of that.
We supply and produce throughout the year and carry a standard collection with many classic models. This has the advantage that our clothing is not subject to the fast fashion trends.
We can make competitive prices by producing efficiently and within the EU, in our own factory for a classic Breton range without relying on seasonal collections.